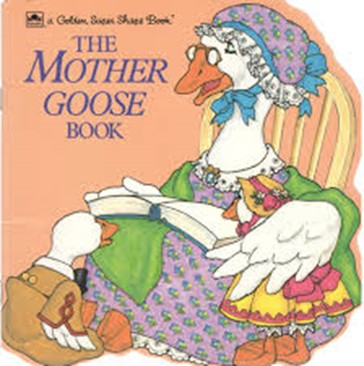 Mother Goose was one of the few books I packed along during our family's great adventure in Kenya in 1973. At the time, our oldest son Erik was nearly 2 years old. My husband was spending six months on a scientific expedition in northwest Kenya, collecting data for his Ph.D. research. Erik and I joined Dennis during the last three months of the expedition.
I packed only what I could physically carry while still managing to hang onto a toddler through the airports of Chicago, New York, London, and Nairobi. I brought only clothes for me and Erik, a couple of toys, and a few essential books.
Mother Goose entertained
Mother Goose entertained us on planes, in hotels, in tents, and around campfires as we began our nomadic adventure. The first month nearly every day was different—we drove through forests, mountains, and wildlife preserves; we lumbered along beach roads and lurched into the canyons and over the trackless plains of the desert in our four-wheel drive truck. We stayed a few days here, a few days there.
During the second month we lived in a tent in the North Kenyan desert next to a dry riverbed. We followed that up by camping the third month at another desert location near bleak cascades of high rock.
Mother Goose provided security
But no matter what changes we experienced, Mother Goose lent stability to our toddler's day. Every day, Jack and Jill went up the hill to fetch a pail of water. Little Jack Horner never failed to sit in a corner. And you could always count on the spider to sit down beside her and frighten Miss Muffet away.
Our African neighbors found Mother Goose appealing, too.
The Turkana of northwest Kenya were a people straight out of the pages of National Geographic. The women wore skirts made of goat skin, and they encased their necks in dozens of bead necklaces made from ostrich eggshells. The men sported mud pack hairdos and went naked except for a single length of cloth, which they usually wore slung under the left shoulder and tied at the right shoulder.
Mother Goose enchanted our neighbors
One afternoon I was reading Mother Goose aloud to Erik under a thorn tree. A young Turkana tribesman wandered by and started peeking over my shoulder at the pictures. I let the young man take Mother Goose over to the dining table, where he was soon joined by a bare breasted teenage girl and two young male warriors carrying long spears.
It was a comical sight—four half-naked Turkana seriously contemplating the pictures in Mother Goose, puzzling over the cat with his fiddle, solemnly discussing the cow jumping over the moon....how I wished I could understand the Turkana language for just five minutes!
That copy of Mother Goose is no longer with us. When it started falling to shreds, I bought another copy for our second child. And then I bought a third copy for child number three. We seemed to wear out one Mother Goose per child.
Mother Goose helps lay an English language foundation
A bilingual kindergarten teacher told me that she always teaches Mother Goose rhymes to her children because it helps them learn English. Mother Goose ushers children into understanding and appreciating the English language. It is a foundation for later reading and writing.
The rhymes are easy to learn and fun to repeat. Repeating them helps reinforce the meaning of the words. The absurd images stimulate a child's imagination. The color and the cadence of the words introduce children to the sheer delight of language. The illustrations and the rhymes together pull children into an enjoyment of the world of books.
Twenty-five years ago, 5-year-old Jacob started coming to our house every day during the summer while his mother worked. When he first came, he had little interest in books and little patience for reading. But soon he was sitting sit still for 20 or 30 minutes while we read to him. For him, I bought our fourth copy of Mother Goose.
And today, with 13 grandchildren, I've kept on buying, and I've stopped counting.
Reprinted with permission from Sticky Fingers, Sticky Minds: quick reads for helping kids thrive
©2020 by Becky Cerling Powers
Reprint with attribution only
https://beckypowers.com/