by Becky Cerling Powers
---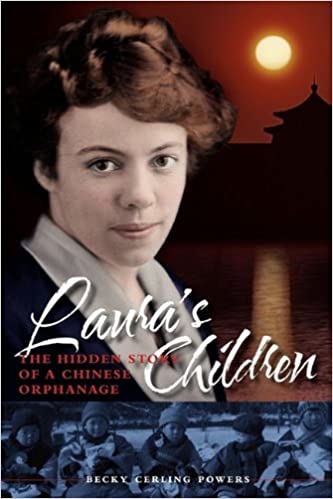 Purchase Options
Books can be ordered and paid for directly or through the PayPal shopping cart.
To Order Books Directly: Make checks payable to: Becky Cerling Powers Send to: Becky Powers, 170 Hemly Road, Vinton TX, 79821
Cost $24.00 Postage Paid
The hidden story of a Chinese orphanage
Laura Richards was a shy American nurse who moved to a remote North China village in 1929 to take in castaway babies. Through 22 years of famines, bandit invasions and wars, she lived in the same conditions as poor Chinese peasants, while managing to save the lives of nearly 200 destitute children. So why did she refuse the Chinese Communist Party's offer to make her a national heroine?
Laura Richards' story was too dangerous to tell when she returned to the U.S. in 1951, but after she died, the letters and memoirs she left behind inspired her cousin Becky Cerling Powers to begin a 25-year quest to meet the former orphans and discover her quiet relative's amazing story.
ISBN-10 : 0967213452 ISBN-13 : 978-0967213453 Publisher : Canaan Home Communications (April 2, 2010)
---
---
Readers and reviewers' comments on Laura's Children
SJ "Sally Jane" (New Holland, PA United States)
Couldn't put it down, not for suspense, but rather the captivating nature of the story. Well, written. Not maudlin. Sensitive and accurate portrayal of 20th century political and cultural China. Author does not preach nor does she hide the realities of missionary life.
Bookworm
I could not put this book down. The story of Laura, her life, faith, sacrifices, experiences and impact on 200 children in China were completely engrossing. Congratulations to the author for researching and telling such a compelling story of a remarkable woman. A very enjoyable and rewarding book to read, I will put this book in everyone's stocking this Christmas.
y.a. book lover "bookbrew" (Bay Area, USA)
This is an inspiring story that reveals just how messy and gritty the life of faith can be. Laura Richards, a young Presbyterian nurse in China post World War II, started to feel uneasy when she realized that she was urging poor Chinese peasants to trust in God even though she, herself, relied on a good salary from the Presbyterian mission board. So she gave up her salary and started an orphanage, trusting that God would provide their daily needs. She soon become among the poorest of the poor, and it was Chinese peasants who brought her (and the children she took in) the food, medicine, and money they needed to survive. Ultimately, Laura had to face not only extreme poverty but extreme repression and hostility from the Communists when she was one of a handful of foreigners allowed to remain in the country after the Communist takeover.
Imminently readable, a real page turner, and, best of all, a true story that has been immaculately researched. Though it celebrates the life of faith, this story avoids the cheesiness found in many missionary biographies or other Christian literature.
David M. Sand
I started to read Laura's Children at the beginning of the Seattle Seahawks playoff game against the New Orleans Saints. I live in western Washington. I had planned to watch the game with my family and read the book during the commercials. Before the end of the first quarter, I left to go into my room to concentrate on the book—it was that good. I only saw the last few minutes of that thrilling game, and then couldn't put the book down until I had finished it at 1:15 the next morning.
Beth McConnell
I just devoured the book. It is just lovely, a very artistic book. I had the feeling I was reading a Chinese book. The little pictures on the pages…a million little subtle things. It's a very artistic book. It just about never happens in the U.S. Everything was so beautifully coordinated.
Sue Cameron
Here's what two of my young moms posted on FB!
Molly said:
I just finished the best book I've read in a long time (besides the bible of course)..."Laura's Children: the hidden story of a Chinese orphanage" by Becky Powers. It was an incredible story of faith in the midst of tremendous trials- I laughed, I cried, I was encouraged and challenged in my walk with Jesus! It was so hard to put it down but now I've finished it!
And Stephine said:
I loved that book too! Laura often comes to mind now, and her great faith in Jesus.
Definitely an exciting and encouraging story! I learned so much about China at that time in history that I never knew before.
Steve Irwin
I was just fascinated by the story….Honestly, I knew from the first few paragraphs that I was going to enjoy the writing....I'm so glad you told the whole story, including the multiple failings or betrayals by Laura's Chinese husband. It really gives the whole story much more weight and historical interest when you don't excise the less-than-ideal bits. I'm sending the English book to my parents in California because I know they'll love it.