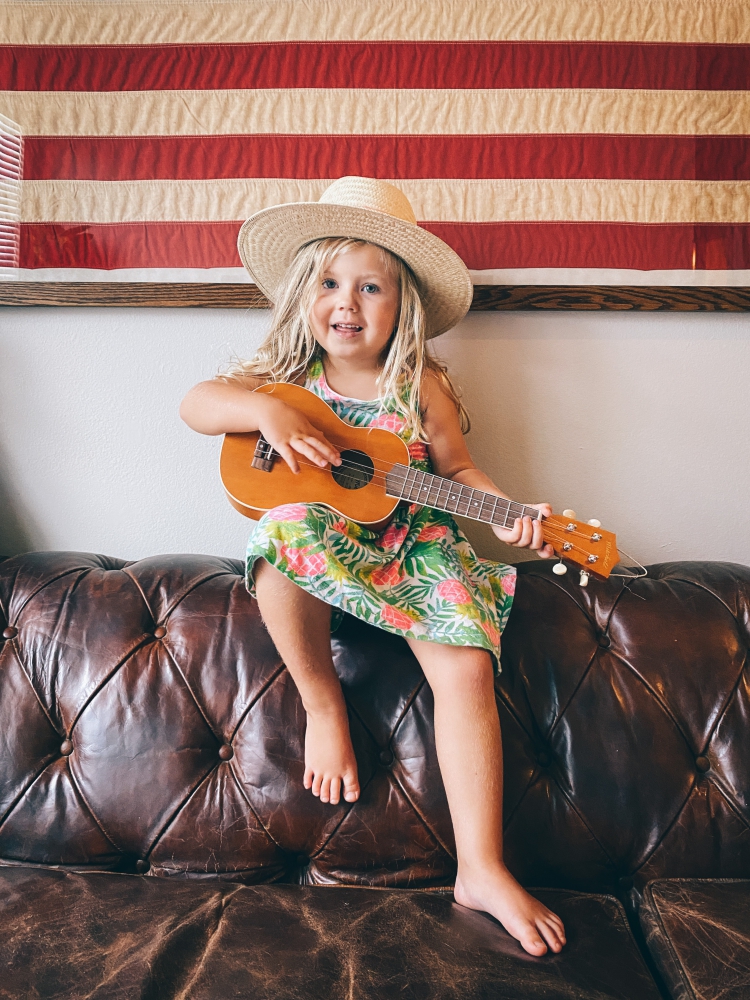 I had just deposited our 22-month-old son's breakfast pancake on his high chair tray one morning, when he started singing "Up above the world so high, like a diamond in the sky..."
I was astonished. Our baby knew the words to "Twinkle, Twinkle Little Star!"
Our baby can sing!
Matt's vocabulary was exploding, but I had no idea that he could carry a tune. Or that he could repeat a whole phrase from a song.
At the time our two other children were 7 and 4. Like most children their ages, Erik and Jessica were fascinated with musical instruments. Whenever I sat down to play the piano, they stopped whatever they were doing, dashed to the piano bench and begged me to play one of their songs.
So, for a few years, I gave up working on my own pieces and learned arrangements to folk songs and children's songs. I also bought a couple of good song books with pictures on every page so the children could find their favorites themselves. I played and we all sang. They often danced, marched or made up actions to some of the tunes as well. And the baby always included himself in these song sessions.
How many songs does Baby know?
After hearing him sing at breakfast, I started wondering how much Matt had picked up while I was concentrating on his brother and sister's love of music. So I ran an experiment. I sat him next to me on the piano bench, and over several days I played all the songs we'd come to enjoy together. At some point in each song, I quit singing for a line and listened carefully. If Matt carried on without me, filling in the blanks with the right words, I counted that song as one he knew.
It turned out our baby knew over 50 songs!
Sharing music with kids
Parents don't have to be professional musicians to share the fun of music making with children, to develop a youngster's appetite for good music or to uncover a child's natural talent. In fact, parents don't even have to play an instrument themselves to expose their children to the delights of music. They only have to begin wherever they are themselves and learn along with their children.
Here are some ways to encourage the family's appreciation of good music:
Sing. Sing in the shower, and sing as you do chores around the house. Buy albums of children's songs and your own favorite songs, and then sing along, around the house or in the car driving. As children grow older, teach them to sing rounds. This provides a foundation for learning to sing harmony later. Include songs in your children's bedtime routine. Break through whiny, fussy times with singing or listening to music.
Introduce your children to music making. Take advantage of children's natural tendency to enjoy blowing whistles and banging drums. Show them how to clap in rhythm first, and then how to keep time using rhythm instruments. Haul out any instruments you play yourself and learn to play the melodies your children like.
If they ask for music lessons, take them seriously, especially if they are showing other active signs of interest, like picking out tunes on a keyboard. Even if a child only takes lessons for two or three years, the experience will give him a basic understanding that can provide a foundation for a lifelong appreciation of music.
Expose children to a wide variety of music of different forms, styles and cultures. To get an idea what different kinds of music the family likes before buying albums, listen to a broad range of music on youtube.
Listen actively to music with children. Before you introduce a folk song to a preschooler, for example, familiarize yourself with it first, and then prepare him by telling him a little bit about the song. (Example: "This is a silly song about a goat who ate somebody's shirts. It's called 'Bill Grogan's Goat.' We're going to find out what happened to that silly goat.") Next, listen to the song with him, and then talk about it. This will not only develop his ability to appreciate music, it will also help him develop good listening skills he will need later in school.
Good beginning classical pieces to introduce to children are those that tell a story, like "The Nutcracker Suite," and those that have special sound effects.
I was unfamiliar with Saint-Saens' "The Carnival of Animals" until my mom gave me a record of Whittemore and Lowe's performance with the Philharmonic Orchestra. Each of this composition's 14 movements represents a different animal. We played the record, I told the children which animal each movement represented, and we mimicked the beast, miming and dancing around the living room. It was great fun—and great exercise. It became one of the children's favorites, and one of mine, too.
Music enriches all of life. When parents introduce their children to the joys of good music, they are passing along a lifetime treasure.