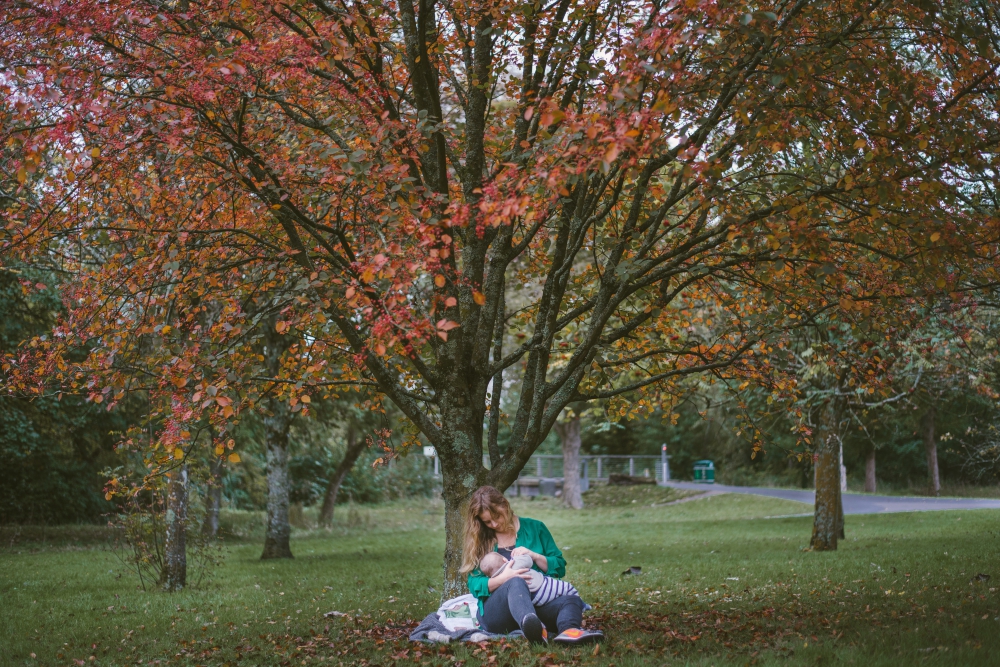 1977 was my year of postpartum depression and my year of learning how to eat the Word of God and make Bible milk.
That previous fall of 1976, as I had pushed myself hard to prepare for the Thanksgiving and Christmas holidays with a two-year-old and an almost-five-year-old underfoot. I was aware that I was tired. But I was unaware that I had an undiagnosed thyroid deficiency. When 8 ½ pound baby Matt arrived on December 8, three weeks ahead of his due date, I was beyond exhausted.
But I began 1977 with my customary New Year's prayer: Lord, show me what you want me to focus on for this coming year.
The answer came as a strong impression over several days:
I want you to weave scripture into the fabric of your children's daily lives.
"How can I do that, Lord?'' I objected. "They are all too small to read.''
Still, as the days passed, I could not shake the strong impression that God was telling me clearly what He wanted. And then, as I puzzled over the problem, I remembered the Promise Box of Bible verses my parents used to keep on the dinner table when I was growing up.
At each meal, we would read a verse before saying grace.
I realized that simply reading Bible verses aloud would mean little to our preschoolers, but perhaps, I thought, if I drew a picture on a 3 x 5 card to illustrate each Bible verse, the illustration would catch their imaginations and help them understand.
As if to encourage me, a sudden flood of Bible verses filled my mind. The verses were filled with vivid word pictures that would be easy to illustrate. Quickly I jotted down verses like: "I am the light of the world. Whoever follows me will never walk in darkness but will have the light of life'' (John 8:12) and, "Go to the ant, you sluggard; consider its ways and be wise!'' (Proverbs 6:6)
Although I considered myself no artist, I decided to illustrate one verse each week and read it at every meal.
My drawings were crude,
Nevertheless, Erik and Jessica loved these illustrated verses and begged me for more. So, I began illustrating about three each week.
Sometimes ideas for illustrating a particular verse came to mind as I worked around the house. Other times illustrations in the children's storybooks reminded me of verses. This was before photocopy shops, so I used carbon paper to trace those illustrations on cards and print the appropriate verses alongside the pictures.
Then I realized that I could enlarge some of these drawings and fashion them into cloth banners to hang on the children's bedroom walls. Erik and Jessica's delight with these banners helped keep me going with the project, and Erik was so fascinated with the words on the banners that he used them to start learning to read.
One day I drew a picture of Erik and Jessica surrounded by angels to illustrate the verse, "He will give his angels charge of you to guard you in all your ways'' (Psalm 91:11).
Later as I did housework, I began to sing those words to a little melody that sprang to mind.
This, I realized, was another way to weave scripture into the children's daily lives. We could sing Bible verses. So, I began putting verses to music.
Soon I learned that putting our children's names into these songs helped to make their meaning personal for them: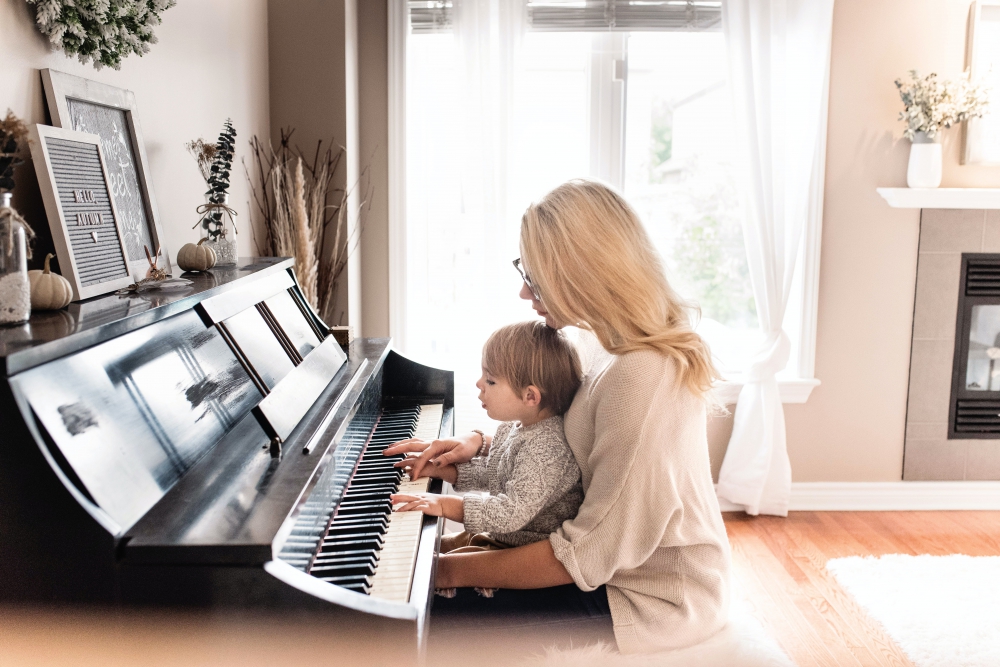 "He will give his angels charge of you to guard you in all your ways.
He will give his angels charge of you to guard you in all your ways.
God will take care of Erik,
God will take care of Erik,
He will give his angels charge of you to guard you in all your ways."
The scriptures became personal for me, too.
I was so tired and depressed that postpartum year that I could not sit down to read or study the Bible for myself. Or pray. If I sat down, I fell asleep. My only Bible study was the scripture word pictures from verses that came to mind (from years of past study) for me to illustrate and sing to my children.
My thinking was so muddled from exhaustion. I had to write down every step of my work: wash laundry, hang laundry out to dry, bring laundry inside, sort laundry, put laundry away. With three little ones, I was constantly interrupted in my work, but if I got interrupted during a task, I was too tired and confused to remember what work I had been doing and needed to finish. I had to check my list, or nothing would get accomplished.
I had given up reporting tiredness to doctors.
Each of our children was born in a different city with a different gynecologist. I reported my tiredness to each one of them after each child's birth, and each one put me off, implying that I was a complainer. All moms with small children are tired, they said.
But the creative forces in the Bible verse project gave me little energy boosts and light at the end of my dark tunnel of depression. When I sang to my children about the angels guarding them in all their ways, the words gave comfort food to my soul. The words strengthened me, sustained me, nourished me. I didn't realize that I was learning to savor and eat the Word of God as I shared it with my children day by day.
And then a new revelation came.
It happened after I went to a local Christian bookstore and discovered a supply of illustrated verses on cards. Wonderful! I thought. I can save time by using these instead of coming up with my own verse illustrations. So, I bought them and showed them to my kids.
But for some reason, the children seemed uninterested in these beautiful, professionally illustrated verses. They preferred my crude, homemade cards. They wanted me to make more, more.
I asked the Lord why, and He answered my question in an unusual way.
One day I was listening to the radio and heard a scientist explain that baby formula companies are unable to produce formula that exactly matches breast milk. No two women's breast milk is exactly the same, the scientist said, and some scientists believe that the body of a well-nourished woman formulates exactly the kind of milk a particular child needs.
The professionally illustrated verse cards are like manufactured baby formula," I sensed the Lord telling me, and the cards you make yourself are like breast milk, especially formulated for your children. Just as you produce breast milk for little Matthew from the food you eat, so you must digest the meat of My Word and then feed it as milk to your little ones.
That was when I realized God's principle for parents:
We must take the Word of God into our own lives and then tell stories about it, discuss it and explain it to our children at the level of their understanding. This is what my scripture songs and crude drawings did for my children. As I absorbed scripture into my thoughts, my imagination, my work and the way I lived my life, I was digesting the Word of God and turning it into Word-Milk for my babies.
Today I look back on that year and know I should not have been driving with my unrecognized medical condition. But God in His wisdom allowed me to go through the darkness and muddled thinking of that year of depression, keeping us safe in traffic. Before that year, my approach to scripture was intellectual, logical. This 1977 project for our children opened my mind and spirit to the word pictures of scripture…to pondering and praying metaphors and to nourishing my mind and soul with the implications of their messages.
In this way, God met me in His Word. His presence was light in my darkness, food and drink in my wilderness wandering way.
©2019 Becky Cerling Powers
Reprint with attribution only www.beckypowers.com
Becky Cerling Powers is the author of Laura's Children: the hidden story of a Chinese orphanage as well as Sticky Fingers, Sticky Minds: quick reads for helping kids thrive. She blogs at www.beckypowers.com
"Bible Milk" is part of a collection of stories describing and explaining the use of the spiritual weapons that the apostle Paul listed in Ephesians 6:10-20. This story describes using the Sword of the Spirit (the Word of God). To read the introductory story, enter its title "Family Conflict, Family Struggles" into the Search Bar. To find other stories in the series enter "reflections on spiritual warfare" into the Search Bar.