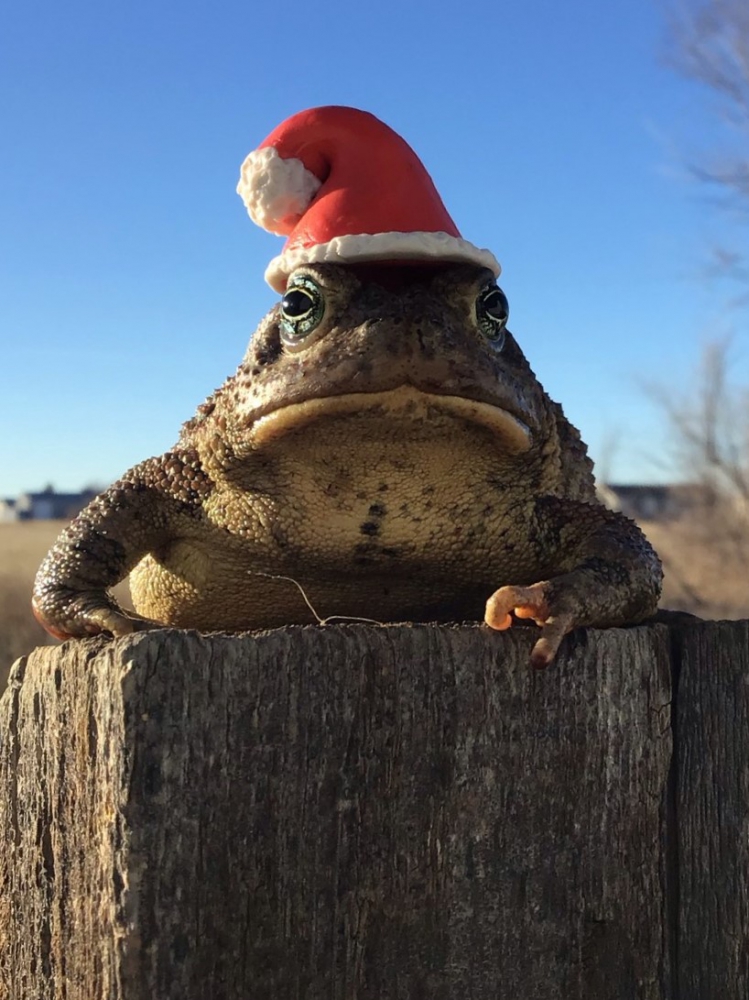 It all started with a Teachable Moment.
Our 14-year-old granddaughter's publication adventure began when she was 5, and her mom found a toad in the yard and showed it to her.
Kendra was excited and curious – of course.
That's how kids are naturally – curious about the world, fascinated with new things they discover, excited and full of questions.
This was a teachable moment for Kendra, and Fernanda took advantage of it.
She made a little toad aquarium and showed Kendra how to take care of a toad – what kind of place it needed to live, what kind of food to give it, why she needed to wash her hands before and after touching it, and to be careful never to pick it up when it was shedding its skin.
Fast forward seven years to one day when 12-year-old Kendra was playing in the river with her cousin and noticed a bunch of teeny tiny baby toads hopping around.
So, she caught some.
She brought them home in a container of river water, then made them an aquarium home in a plastic container with air holes punched in the lid.
She put in dirt, rocks, plants and a wading pool, and she made places for the toads to hide.
She fed them by squashing a marshmallow and leaving it out every night to attract ants.
Then she shook the ants into a jar and dumped them into the aquarium. She set up a lamp over the toads' home so they could sunbathe.
One of the toads started eating more ants than the others. It grew bigger and bigger, while the other toads gradually disappeared, leaving only one toad.
Kendra named it Bait.
And for two years now, Kendra has been traveling back and forth from her house to ours, often staying with us for several weeks and delighting us with the creative, artistic energy she pours out on Bait the Beloved Toad.
She crocheted strings, attached them to a small plastic box, and made him a swing that he likes using to sunbathe (or at least, lamp-bathe). She bought him fake plants and dollhouse miniatures to decorate his aquarium. She devised a clever hidey house for him by hot-gluing pebbles onto a round plastic lid and building them up into the shape of an igloo.
As Bait became more relaxed with her, she started taking him on walks.
She took photos of him in the flower bed, on a stump with a sunset behind him, in a big pile of dandelion fluff. She strictly trained the family dog to "Leave it!" so she could photograph Bait with the dog.
And then she started creating little hats from colored polymer clay and taking pictures of Bait modeling the hats. When she started posting her photos on TikTok, people began following her.
Her photos were so comical and sweet!
We all encouraged her, of course. And since I have a hobby of making Shutterfly photo books for the family, I put together some $10 small size, 20-page photo books for Kendra and ourselves, with extras to share.
Our daughter Jessica is the publisher of Catalyst Press, which publishes African authors but also includes a subsidiary imprint of science and nature related books. One night Jessica was visiting us with several of her friends, and I showed them Kendra's Shutterfly.
They thought the photos were hilarious.
They would turn a page, burst out laughing, turn another page, then laugh and laugh some more…until finally Jessica blurted out, "You know, somebody could publish a book like this!"
Then she paused. Thought a moment. And said, "I'm a publisher! I could publish this!"
Thus, Kendra's book of Bait photos was conceived and born and can now be purchased for $14.95 online and in bookstores.
And that is the way of Teachable Moments.
You never know when they will appear, what they might do, and where they might take a child…or you!
Kids are naturally curious learners and explorers. But tragically, many of them seem to lose that instinctive love of learning on the road to adulthood.
Not that it has to be that way for your child. But…
You do have to be alert. Teachable moments usually happen when you are doing something particular with a goal in mind. So you tend to ignore remarks like "Look at the long horns on that cow!" or "What's that yucky smell?"
And these days, you have to make a dedicated effort to get away from screens whenever you are doing something with kids, like driving, eating a meal or shopping. Or taking a walk – unless, that is, your special kids are miles away from you. That's when you invite them to go for a video-phone-walk and show each other what you are seeing.
Recognizing teachable moments takes practice. And you can't force them on kids.
You also need to be careful to avoid over-teaching, because "When you try to teach everything you know about a subject at one time," educator Ruth Buehrer told me, "it's like shooting a fire hose into a bucket. Most of the water splashes out. But if you allow water to drip into the bucket from a faucet, the water stays inside."
Over-teaching is a big temptation, but children retain and use information better when it comes in small doses, she said, when it builds on material they've previously learned, and when they see how the concepts they are learning relate to their own lives.
Because kids want and need to make connections.
They want to know "It works like this, and here's how it can affect you for the rest of your life," Buehrer said.
So, instead of teaching history starting with the ancient world, you begin with mom and dad and grandparents, then move to the experiences of great-grandparents. And it is from there – from the experiences of their own family – that you introduce them to stories about their country and the big, amazing world we inhabit.
Very few single teachable moments directly result in creating a young author, a young artist or a young inventor.
But if you look for and grasp the many, many teachable moments that inevitably come along when you are with kids, you will find that -- long after childhood has passed – you have, in fact, helped to raise up authors, artists, inventors, scientists, mechanics, builders, and innovators of all kinds, some in areas of expertise that didn't even exist yet, when your curious young explorers were little.
Here's Bait on YouTube: https://youtu.be/4Tocry3oHpk
And here's Bait at bookshop.org: https://bookshop.org/p/books/bait-the-toad-jl-powers/19797001?ean=9781733547451
©2023 Becky Cerling Powers Reprint with attribution only – www.beckypowers.com
Becky Cerling Powers is the author of the parenting guide, Sticky Fingers, Sticky Minds: quick reads for helping kids thrive