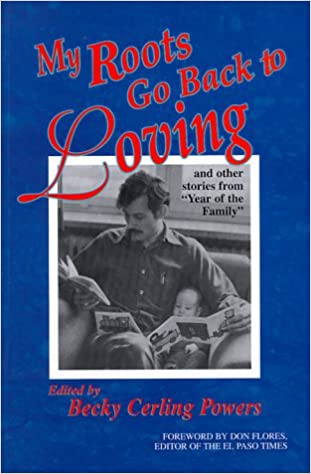 Purchase Options
Books can be ordered and paid for directly or through the PayPal shopping cart.
To Order Books Directly: Make checks payable to: Becky Cerling Powers Send to: Becky Powers, 170 Hemly Road, Vinton TX, 79821
Cost $12.00 Postage Paid
My Roots Go Back to Loving and other stories from "Year of the Family"
Strengthen your family the storytelling way
"How can we build our city's families?" a task force of El Paso pastors and civic leaders asked each other. "They are falling apart, and parents are overwhelmed. Too many children are growing up without good values." The task force decided to sponsor an original, daily column in the El Paso Times encouraging values that strengthen families, calling it "1998: Year of the Family." Soon people began reading the column first thing in the morning, sharing the stories with friends, children, and grandchildren. The stories encouraged them and gave them insight. My Roots Go Back to Loving is a collection of some of the stories from the popular "Year of the Family" column. Each short, easy-to-read story includes a passage from the Bible and a prayer for the day.
"Readers of this inspirational work will be enriched by the stories of God's marvelous deeds among us still today. Catholics, Protestants and all people of good faith can find some story that will strengthen their faith journey toward God."
Monsignor Arturo J. Bañuelas, pastor of St. Pius X Church, El Paso, TX
I used to read these stories to my wife at breakfast. Sometimes we would be so moved, we'd both be crying, and I could hardly finish reading."
Barney Field, Director of El Paso for Jesus
These stories touched the hearts of thousands in our international city. They will warm your heart, send chills up and down your spine, challenge you to live more for others, bring tears to your eyes, and give you a smile through the day."
Dr. Levi Price, Jr., pastor of First Baptist Church, El Paso, TX
"This is a great book to keep and turn to when you have troubles raising your family or just getting through life.
Stephanie Townsend Allala, veteran journalist, El Paso, TX