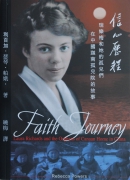 Purchase Options
Books can be ordered and paid for directly or through the PayPal shopping cart.
To Order Books Directly: Make checks payable to: Becky Cerling Powers Send to: Becky Powers, 170 Hemly Road, Vinton TX, 79821
Cost $20.00 Postage Paid
Laura Richards and the orphans of Canaan Home in China is the traditional character Chinese translation of Laura's Children: the hidden story of a Chinese orphanage.
It is the true story of a shy young Ohio nurse who moved to a remote North China village in 1929 to take in castaway babies. Through 22 years of famines, bandit invasions and wars, she lived in the same poor conditions as the Chinese peasants, while managing to save the lives of nearly 200 destitute children. So why did she refuse the Chinese Communist Party's offer to make her a national heroine?
Laura Richards' story was too dangerous to tell when she returned to the U.S. in 1951. But when she died thirty years later, the old letters, photographs, and scattered bits of memoir that she left behind were so intriguing to her second cousin Becky Cerling Powers, that Becky began a 25-year quest to discover her quiet relative's amazing story. Eventually that quest led Becky to China and the orphans, making it possible to weave their memories into this creative nonfiction account. Today, over half a century after Laura left China, her story and her children's story can finally be told.