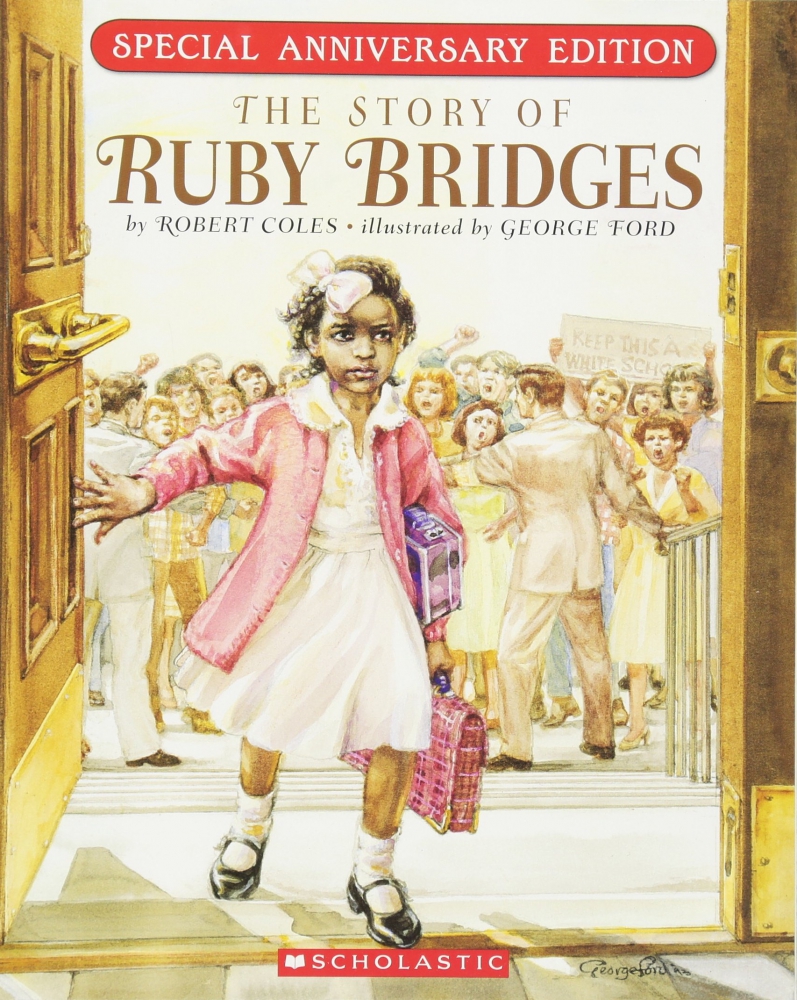 (In yesterday's story, during the desegregation of New Orleans public schools in 1960, psychiatrist Robert Coles was puzzled by the apparent peace of 6-year-old Ruby Bridges.)
A federal judge had ordered that Ruby be allowed to attend a formerly all-white public school. The other parents boycotted the school, and every day, as Ruby attended class all by herself, a mob of 50 to 75 people showed up. They screamed curses, spat, shook their fists at the little girl, and threatened to kill her. The local police refused to protect her from them, so the federal government provided marshals to escort the child to and from class every day.
One day Ruby's first grade teacher told Coles that she had seen Ruby stop to talk to the people in the mob on her way to class. Later, Coles asked Ruby about it. "I wasn't talking to them," Ruby said. "I was just saying a prayer for them."
"Why?" Coles asked, astonished.
"Because they need praying for. Because I should," she said.
When Coles kept asking questions, the only explanation Ruby gave was, "Because I should."
Ruby's parents over heard the conversation and explained that they told their daughter it was important for her to pray for the people in the mob. Ruby prayed for them every night as part of her bed time routine.
Later Coles learned that Ruby's Sunday School teacher taught her the same thing, and that the pastor of her church prayed for the people in the mob every Sunday. Publicly.
"I don't understand why this girl should be praying for those people," Coles told his wife. "She's got enough to bear without that."
"That's you speaking," his wife said. "Maybe she feels differently."
Then his wife developed an imaginary scenario of Coles trying to go into the Harvard Faculty Club through a shouting mob. "What would you do?"
The two of them agreed that Coles would definitely not pray for the people. First, he would call the police. (Ruby couldn't call the police. They sided with the mob.) Then he would get a lawyer. (Ruby had no means to get a lawyer.)
"The third thing I would do would be to turn immediately on this crowd with language and knowledge," Coles said. "Who are these people, anyway? They are sick. They are marginal, sociologically, economically, psycho-socially, socio-culturally, and psycho-historically." (Ruby had no big words like these to turn on the mob.)
After that discussion, Coles asked Ruby again why she should pray for the people who cursed her every day. "Well, especially it should be me," she said, "because if you're going through what they're doing to you, you're the one who should be praying for them."
Then Ruby explained that her pastor had told her that when Jesus was beaten and crucified, he had prayed for the people mistreating him: "Forgive them, because they don't know what they're doing."
In the end, Coles concluded, "The great paradox that Christ reminded us about is that sometimes those who are lonely and hurt and vulnerable – meek to use the word – are touched by grace and can show the most extraordinary kind of dignity, and in that sense, inherit not only the next world, but even at times moments of this one. We who have so much knowledge and money and power look on confused…"
What Jesus said
Blessed are the meek, for they will inherit the earth (Matthew 5:5).
Today's prayer: "Lord, I choose to forgive, but I need Your power to do it. Amen."
© Becky Cerling Powers 1998
Reprint with attribution only
For more of Becky Cerling Powers' stories to share with friends and older children, check out Laura's Children: the hidden story of a Chinese orphanage and My Roots Go Back to Loving and other stories from Year of the Family in the Bookstore.