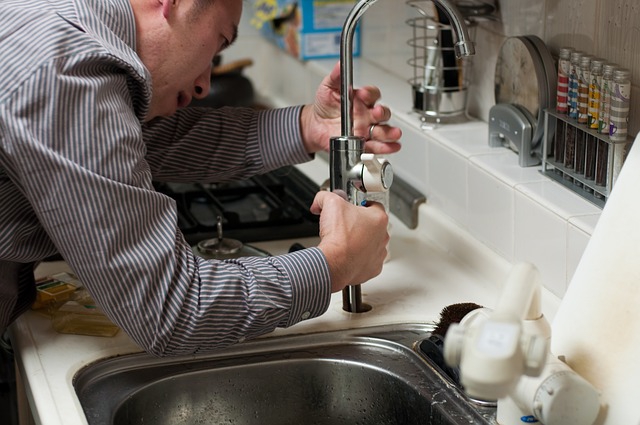 A few weeks ago, my husband and I noticed water under our kitchen sink. The puddle became larger each time we used the garbage disposal. Neither Richard nor I are fond of plumbing projects ... you'll soon know why ... and we avoided the unpleasant situation by putting a pail under the sink to catch the increasing drips.
Calling the dirt cheap plumber
Richard is not exactly stingy, but he does like to stretch his dollars. He has accumulated a list of handymen, electricians, and even a plumber that does good work at discount prices. One day, after emptying the pail, Richard called his dirt-cheap plumber. After a cursory inspection, the plumber told us that the garbage disposal needed to be replaced.
"Do it yourself. It's easy."
"I don't have one with me. You can do it yourself,'' he said. "Just loosen these three screws, twist the disposal to the left, lower it and replace the disposal with a new one. It's really easy. No charge for the advice." Then he was gone.
Was he real or just a phantom? I wondered.
Real or imaginary, the plumber was gone and we were still left with a leaking disposal. Well, maybe it would be easy. Maybe we could do it ourselves.
We did it ourselves
We got our tools, rolled up our sleeves and went to work. We loosened the three screws. Easy. We twisted the disposal to the left. Easy. We lowered the disposal. That was easy, too. After a quick trip to Builder's Square, we returned with a new disposal, exactly the same kind. Installation will be a piece of cake!
It was easy…
Lift the disposal into place, twist to the right, tighten the three screws. We checked it out; no drips, even when the disposal ran. What a great feeling of accomplishment!
Until the next day…
Our puffed-up chests resulting from a self-awarded Nobel Prize for Plumbing lasted only until the next day when I washed a load of dishes in the dishwasher. Water shot into the air like Old Faithful geyser bouncing off the bottom of the cupboards and splattering my African violet that hates to have water on her leaves!
What on earth had happened? We did exactly what the plumber told us to do! But something was clearly wrong.
When we finally had to read the instructions
Finally, we resorted to reading the instructions for installation of the new garbage disposal. Lo and behold, we had skipped step #8 ... "When connecting disposal to a dishwasher, be sure to remove the metal knockout drain plug ... if not done, FLOODING WILL OCCUR."
Everything is working now, dishwasher, garbage disposal and sink drain. There is no water under the sink. But we still hate plumbing projects! Next time we'll call a full priced plumber.
Following instructions in life
Following instructions is important ... for installing garbage disposals, for living life. For best results: in plumbing, follow the written instructions of the garbage disposal's manufacturer; in living life, follow God's Holy Word, the Bible. Don't be distracted from the instructions in the Bible by dirt-cheap advice from those around you.
What the Bible says
"Using the Scriptures, the person who serves God will be capable, having all that is needed to do every good work" (2 Timothy 3:17 New Century Version).
Today's prayer: "Dear God, we praise and thank you for giving us instructions for living. There are many distractions in life, promising pleasures and problem-free living. Help us avoid these 'dirt-cheap' distractions, remain focused on your Word, and live our lives according to your instructions. Amen.
©1998 Jennifer Cummings
You can read other stories by Jennifer Cummings in
My Roots Go Back to Loving and other stories from Year of the Family in the Bookstore