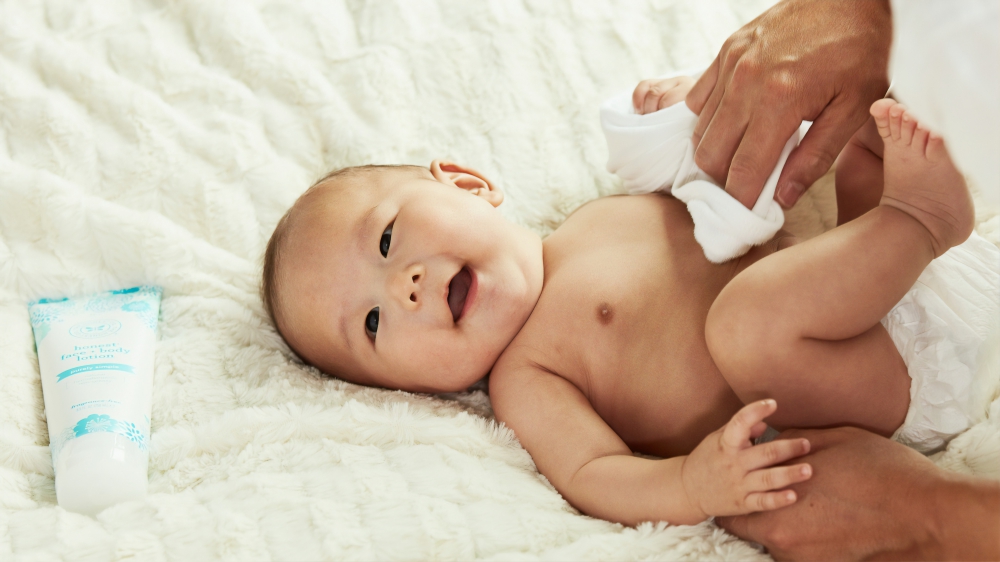 My husband's parenting training began in college, babysitting his older brother's children. One Sunday morning he learned that you should always check the baby's diaper when he gets up from a nap.
Dennis was on childcare duty while his brother and sister-in-law were attending mass. When little Paul woke up, Dennis didn't bother to check on him because Paul didn't fuss. In fact, from the contented noises issuing from the bedroom, it sounded like the little guy had found a happy way to entertain himself.
Brown fingerpaint
Indeed he had. When Paul's mom came home and checked on him, he was happily finger painting his crib bars, the crib mattress, and himself with the brown muck leaking out of his diaper.
Diaper changing is supposed to be the ugly, gross-out task of being a parent. And sometimes it is. But the Colossal Messes of Diaper Days, while tending to produce outstanding memories, actually involve a minor percentage of diaper changing experiences.
The way you do it gives a message
The most important thing to remember is that diaper changing is a social activity. And the way parents relate to babies while changing their diapers helps to build the foundation of their child's sense of self worth. In turn, the child's sense of self worth is key to his or her future ability to relate to other people.
If parents treat diaper changing as disgusting, babies and toddlers may take in the unintended message that they themselves are disgusting. When parents gripe and complain while changing diapers, children conclude that they are an unwanted nuisance and that their basic needs make them unlovable. "It is not O.K. for me to have needs," they may unconsciously decide.
On the other hand, when parents' attitude toward changing diapers is cheerful and matter of fact, and when parents use that time to show love, they help their children to feel worthwhile and to develop a warm sense of security and belonging.
Here is how to make the most out of the diaper changing routine:
Love your baby with your words
Babies are naturally wiggly, and they get squirmier as they grow and develop. Use songs, love talk and happy talk to distract your little one.
You can develop your own talking games, too, as your child's speech develops. (Remember that from about 8 months on children can understand almost everything parents say.)
I used to distract our super-wiggly toddlers by asking "Where's your nose?" and "Where's your chin?" Pointing to each body part kept them happily occupied while I speed-changed them.
Love your baby with your eyes
"A child uses eye contact with his parents (and others) to feed emotionally," says child psychiatrist Ross Campbell in his book How to Really Love Your Child. So look directly into your baby's eyes when you talk to her, smile at her, or say "I love you" during diaper changing.
Eye contact is one of your child's main sources of emotional nurturing throughout childhood.
Love your baby with your touch
Kiss, cuddle, hug and pat your baby after diapering him – and before as well, unless he is too squishy to risk it. Babies and toddlers need lots and lots of close, loving, physical contact with their parents.
Love your baby with firm limits
Even a baby needs to know that certain kinds of behavior, like pulling off Mom's glasses or rolling over, are not acceptable during diaper changing. When parents deal lovingly but firmly with unacceptable behavior, it helps children begin to develop the self control necessary for healthy relationships in the future.
© Becky Cerling Powers updated version 2019