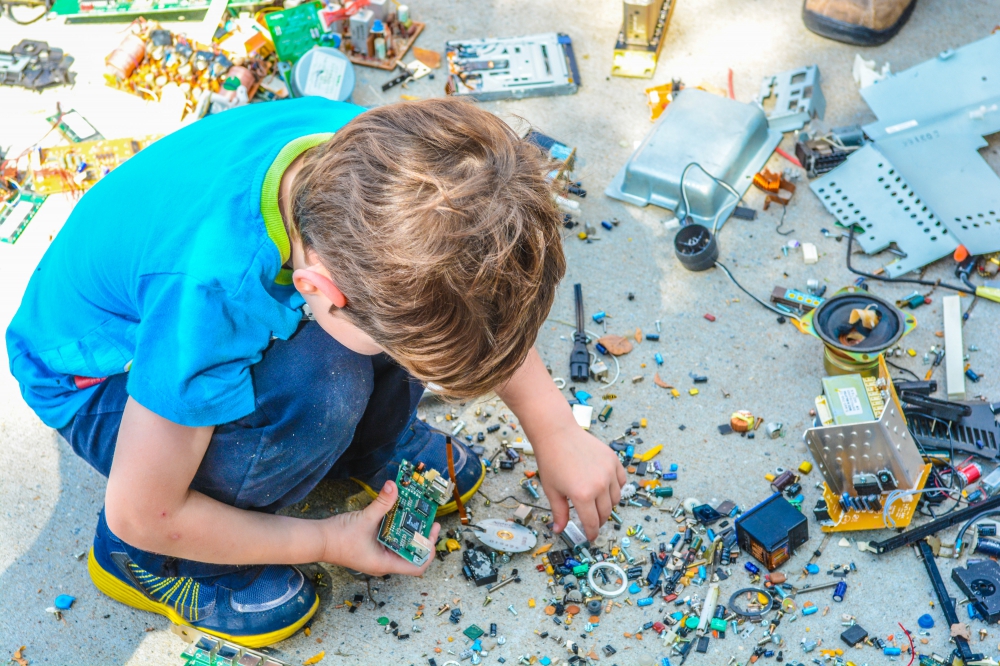 From his baby days, our son Matt was giving us clues about his learning style – the way he learned best. Back then, though, I didn't know how to read his clues – like the way he loved to feel soft things. He used to crawl into our closet and tug on my flannel nightgown until he yanked it down. Then he'd roll around on it. Or like, while riding in his car seat, he would suck his thumb and stroke the hair of whoever was sitting next to him.
He was into everything, too, and constantly on the go. When he cracked his front tooth, his dentist nicknamed him Crash.
Not surprisingly, Matt had trouble sitting still in school until we pulled him out to home school him, and he had a frustrating time learning to read and write. But by the time Matt was a teen, he had grown to be a gifted sculptor and musician, a star athlete, and a terrible speller.
Like Matt, all young children give clues about how they learn best.
Parents who understand their children's learning styles can work and communicate with them better, making it easier, for example, to teach chores. Like the farmer who complained to psychologist Paul Welter, "My son is disobedient."
When Welter asked him to explain more specifically, the farmer said that his 12-year-old son did not do what he told him to do. At chore time, he gave his son three or four tasks. Sometimes the boy did a couple of them and skipped the others, and sometimes he did the tasks in reverse order.
When Welter arranged to have the boy tested, he found that the youngster had poor auditory sequential memory. This meant the boy was not deliberately choosing to "forget" his father's directions. Rather, he was unable to store and retrieve in his memory everything he heard.
This boy was a visual learner who remembered best what he saw, not what he heard. When the farmer began posting his instructions on a bulletin board for his son to read, the boy began doing his chores the way his father wanted.
There are three main kinds of learning styles: visual, auditory, and tactile
A visual baby wants to see what is going on. One family said their baby loves to be held, but if you restrict her field of vision by putting her up on your shoulder, she arches her back and lets you know that that is not where she wants to be. She is happy and content, though, if you hold her face outward so she can see everything that you can see.
Visual learners need to see what it is they are supposed to learn.
They usually have an easier time in school than other learners because most curriculum is visual, and most classroom teachers are visual learners who tend to teach the way they themselves learn best. Visual learners are usually "bookworms" who read a lot and express themselves best through writing. They should have their eyesight tested regularly.
Good educational materials for visual children are flashcards, matching games, puzzles, instruction books, charts, pictures, posters, wall strips, and videos. They remember better what they hear if they try to visualize the material, take notes, and write down key ideas, directions and instructions. Color coding material helps them, as well as drawing pictures of new concepts and then explaining them. They may have trouble remembering spoken directions, and they are easily distracted by sounds.
If these children have social or emotional problems, they respond well to reading books about other children coping with those same situations. Parents can give them material to read and then talk about the material together.
Auditory babies like to listen and experiment with sound.
Once they learn to talk, they never seem to quit. One mother of an auditory learner told me her daughter went around the house chanting, "I am not a Chatterbox. I am not a Chatterbox."
Good educational materials for these children are songs and rhymes (like the ABC song), rhythm instruments, podcasts, and audible books. They learn best through verbal instructions from others or themselves. They will remember math facts and spelling words better by chanting them. Reading new material out loud helps them to learn and remember it. They prepare for and perform better for tests if someone reads the test questions to them aloud.
Auditory kids literally have to hear themselves think.
Providing an environment with good music will give these youngsters a lifelong love for music. They are good prospects for music lessons and instruction in foreign languages.
Tactile or kinesthetic (touch-movement) learners are active babies like Matt
They are very busy and they seem to get into everything. They learn best by touching and manipulating things. When they get older, they like to spend their free time building or making things. They are usually the fastest in a group to learn a new physical skill.
These children tend to have the hardest time in school. They don't focus on visual or oral presentations, so they seem distractible. Besides, if they have to sit still, as children are expected to do in traditional classrooms, it can take all their energy and concentration to learn to do that. Then they have nothing left over for learning the subject matter.
Hands-on learning is essential for these children
They need physical movement to learn and understand – touching, moving, building, drawing. They need sandpaper letters, math manipulatives, long nature walks, model kits, and textured puzzles. They will learn to write best if they get to write BIG at first, because large muscle actions wire their brains quicker and better than small, fine movements.
Kinesthetic children may manage schoolwork assignments better if they can stand, march in place, walk around, chew gum or rock in a rocking chair while working. When our son got too jittery, it helped to let him go outside and run around the house three times before resuming work.
Tracing words with a finger helps them learn to spell. Using a computer can help them reinforce what they are learning through their sense of touch. One kinesthetic college student reported that his grades improved dramatically when he taped his textbook reading assignments and then listened to the tapes while jogging.
Manipulative materials and a good phonics program can help cure reversals in tactile learners, who are the group most frequently labeled 'dyslexic.'"
As teens and adults, kinesthetic people will often talk more readily if they are doing something active – going for a walk, driving, or working alongside a companion on a project.
Not many people learn in only one of these three ways
And some learn well in all of them. But most people lean more to one style of learning than another. As parents, it helps to figure out our children's best way of learning and work with it instead of fighting it.
© Becky Cerling Powers 1997 updated 2022
For more parenting insights from Becky Cerling Powers check out her blogs at www.beckypowers.com and her parenting book Sticky Fingers, Sticky Minds: quick reads for helping kids thrive