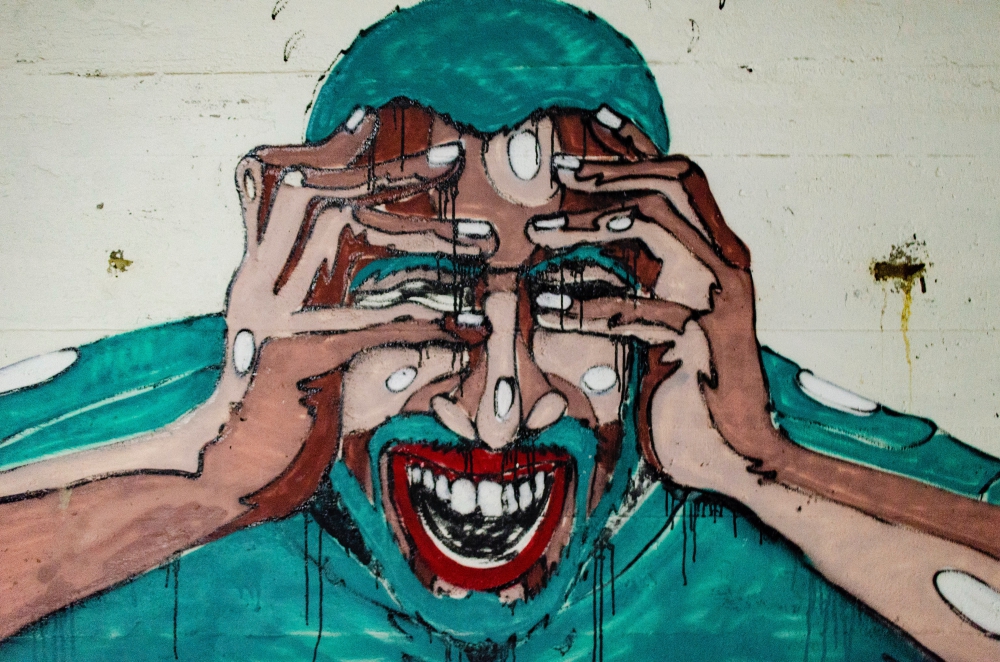 Criminals took advantage of my friend's adult daughter with mental retardation and landed the vulnerable young woman in the hospital. "I want to go and beat those people up!" my friend told me. "How could someone do this? I feel like a Mother Bear: 'Don't get near my cubs!' I just want to get revenge on the people who hurt my daughter."
My friend is a Christian. "Is it wrong to be so angry?" she asked.
I said I believe it is right to be angry at things that make God angry.
Our culture is offended at the idea of a God of wrath and judgment, especially a God who might become enraged with us. Yet at the same time, we all long for a God who will right the wrongs that infuriate us. That's why we like Superman. He has power. He gets mad at injustice, and he does something about it.
We really want God to be furious and do something about people who rape children. We want God to get angry and swoop in to rescue vulnerable people like my friend's daughter. And the Bible says that our great God does this – in His own way, in His own time, and with incredible power. God gets angry. And God takes action.
People do things that hurt us, rob us, devastate us and destroy those we love. They get away with illegal activities as well as things that may not necessarily be illegal but are cruel, unfair, and destructive. They take advantage…And we get angry, furious, bitter. We want revenge. A lot of Christians think we're not supposed to want those things – or feel that way. After all, "Vengeance is mine," says the Lord. "I will repay." And didn't Jesus say we are supposed to turn the other cheek?
So … does that mean we pretend we're OK? Swallow our rage?
We get really confused about our feelings, so confused that sometimes we just stuff them down and pretend they aren't there. But they are there, and when we don't admit them and deal with them in a healthy way, they turn toxic inside us and make us sick. They poison our relationships, too. The Bible tells us over and over to walk in the light, and this is part of what that means: as we make our way through each day, to look at what is, to face and deal with reality. No covering up.
Part of reality is this: God created our emotions, and He knows what to do with them when we do not. So, we need to tell God how it is with us – express to God how we feel, what we want, what we need. We can do it through words, music, the visual arts…in many ways. He can help us express our emotions in ways appropriate to the specific way He created each one of us.
The book of Psalms shows us the way to do this.
For there, mixed with the songs of awe, of thanksgiving, of joyous confidence, we find broken-heart cries of terror, anguish, despair, and fury – what musician and pastor Donn Charles Thomas calls the "Psalms of Disorientation" and others simply call lament:
How long, O LORD ? Will you forget me forever?
How long will you hide your face from me?
How long will my enemy triumph over me?
Theologically speaking, God does not forget His children.
And David knew that intellectually when he wrote these words in Psalm 13. But he felt forgotten and hopeless, so he said so. And in the process of crying out to God, expressing his true feelings and desires, he was able to get rid of the garbage in his soul and feel hopeful again. He could end his psalm in praise:
But I trust in your unfailing love;
My heart rejoices in your salvation.
I will sing to the Lord,
For he has been good to me.
Once David told God how abandoned and vulnerable he felt, he could then remind himself that God was good to him in the past and that God's love is unfailing. So, by the end of the psalm David is singing and rejoicing in faith because he trusts that God's salvation is surely coming.
At an Urbana Missionary Convention for college students in 1993, Thomas said, "Rappers are trying to say, 'We are hurting.' Rap comes out of the 'hood, but its challenge to reality made inroads into suburban areas…. But the one thing rappers do not do, is address God with their problems. They talk to you about their problems, and most of you can't help them."
"The Psalms of Disorientation teach us how to worship God and still complain," Thomas said. "They give us a way to go to God in complete honesty and even express feelings that aren't 'nice,' feelings that a good Christian 'shouldn't' feel."
Lament is not grumbling. Grumbling complains from an attitude of arrogant entitlement. Lament complains from a posture of humility.
"David knew how to rap, how to use unguarded language to tell God how it is: 'God, I'm hurting! God, I have enemies and these guys hate me. So, kill them!!'" Thomas said. "In a prayer of imprecation, using unguarded language, I'm hurting so bad I don't have time to be religious or respectful: 'Lord, this man has done so much against me, I want You to make his wife a widow and his children orphans!"'
"Your being honest with God is not going to make God fall off His throne," Thomas said.
"Your being honest with God won't cause God to not answer you."
The psalms of disorientation provide a kind of template to write your own cry to God in your own situation, Thomas explained. He described the elements in these psalms in this way:
1) Address to God
2) Plea
Complaint (Example, Psalm 35: My enemies are repaying me evil for good.)
Petition (Example, Psalm 51: I'm guilty. I need restoration. Psalm 35: Fight for me, vindicate me, don't let people gloat over me.)
Motivation -- explaining why God should help, giving Him motivation for granting the petition (Examples, Psalm 88: Lord, I'm valued by You as one who praises You, and if I die, I can't praise You. Psalm 79: Your power, prestige, and reputation are all at stake. If You don't deliver me, they're going to talk about You and say You're not Almighty God.)
Imprecation – using unguarded language to express anguish (Example, Psalm 109: "May his children be fatherless and his wife a widow.")
So, I gave my friend my notes from Thomas' presentation and suggested she do this:
Read through some of the psalms of disorientation listed below and let God help her use these elements (complaint, petition, motivation, possibly imprecation, praise) to be utterly honest in expressing herself to God, to bring her into God's healing presence and help her move into doxology and praise. Writing it out can be helpful.
In spiritual warfare, Paul ends his listing of spiritual weapons by telling us to pray at all times in the Spirit. Praying is something we do while using any of the weapons. Expressing our feelings honestly to God in lament uses the belt of truth by admitting the genuine condition of our souls. It strengthens us to hold up the shield of faith. It protects and renews our minds with the helmet of salvation.
Psalms of Disorientation
Communal psalm (the whole community goes to God): 74
Cry of an individual: 13, 35, 86, 109
Combination (an individual with concerns for the community): 32, 51, 79, 80, 88, 137
Resource: Whitney Willard's blog, Lamentations: the Volatile Voice of Grief.
© Becky Cerling Powers 2021 www.beckypowers.com
Reprint with attribution only
Becky Cerling Powers is the author of Laura's Children: the hidden story of a Chinese orphanage and Sticky Fingers, Sticky Minds: quick reads for helping kids thrive. She blogs at www.beckypowers.com "Complaining as Worship" is part of a collection of stories explaining and describing the use of the spiritual weapons that St. Paul listed in Ephesians 6:10-20. To read the series' introductory story, enter "Family Conflict, Family Struggles" into the Search Bar. To find other stories in the series enter "reflections on spiritual warfare" into the Search Bar.