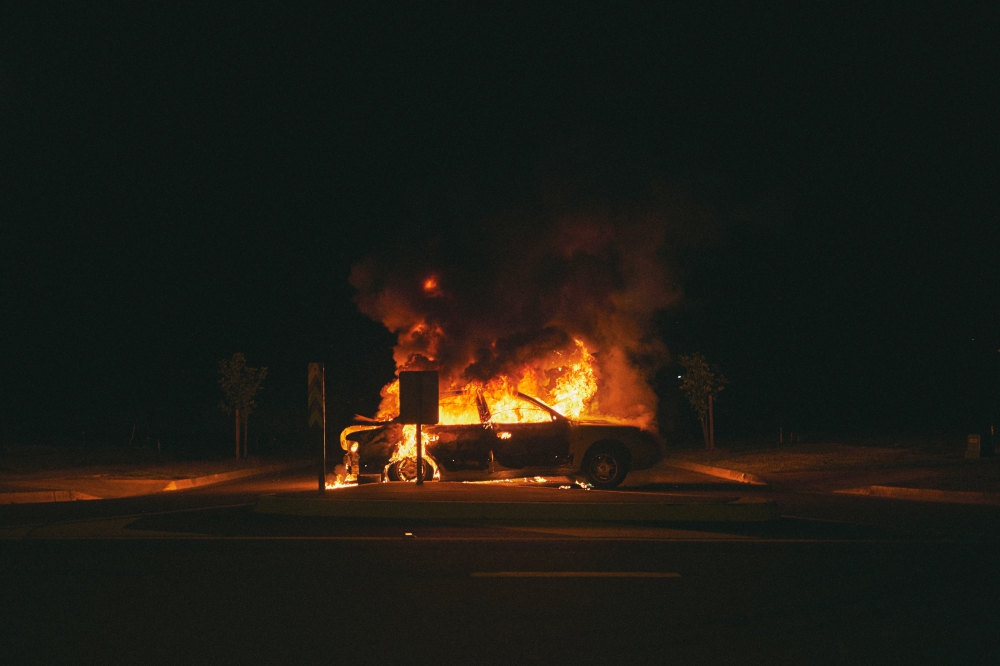 I hadn't seen my friend Joann in the five years since we moved to another state, when suddenly she phoned and then showed up for a visit. Joann said that a year or so after we moved, her younger son Scot had become a teen and started to rebel. She suspected he was using drugs.
Then she began noticing expensive new possessions in his room. Late one night, she realized he was nowhere in the house, but his bedroom window was wide open.
He had snuck out.
What was going on? She was horrified, angry, worried, scared.
But, she said, while she was praying for her son one day, the Lord directed her attention to Ephesians 6: 12 For our struggle is not against flesh and blood, but against the rulers, against the authorities, against the powers of this dark world and against the spiritual forces of evil in the heavenly realms.
Scot was made of flesh and blood.
So, she replaced the words "flesh and blood" with his name and made the verse personal: For my struggle is not against Scot, but against the rulers…authorities…powers of this dark world and against the spiritual forces of evil in the heavenly realms.
Well, it sure felt like her struggle was with Scot. But St. Paul said no. Her real struggle was with dark powers that were trying to destroy her son. And her. And her family, if possible. As well as her husband's ministry…
Joann had been my assistant pastor's wife, we'd worked closely together to develop a children's ministry at our church, and we'd had a strong prayer relationship before her husband lost his position in a church conflict. Now her husband was still out of work and their son's behavior and reputation were hindering his ability to seek a local pastorate. (Of course, as a former pastor's wife, she was coming under as much criticism for their son's rebellion as Scot's father was.)
Joann's insight from Ephesians changed her attitude, she told me.
Fury and fear gave way to compassion. Scot's behavior still upset her, but now she saw it in a new light that gave her the perspective to keep on showing Scot loving acceptance and to keep on trying to communicate.
One night Joann said she woke up feeling like Scot was in great danger, and she needed to pray for him. She checked his bedroom. It was empty. She prayed through the early morning hours until he returned home.
The next day the police came to their door.
She and her husband learned that those nights when Scot climbed out his window were nights when he was meeting up with his buddies for drug parties or for breaking into people's houses, stealing their possessions and selling them to get money for more drug parties. The previous night Scot and his drug buddies had partied, got very high, stole a car, wrecked it, and decided that the best way to cover their crime was to set the car on fire. Then, in a hazy stupor, they all sat down to watch it burn and explode. They could have been killed.
Scot landed in court and barely missed being sent to a detention center. Instead, the judge ordered probation and a big fine. Scott had to get a job to pay off his fine and he had to meet regularly with a probation officer.
I wish I could say that Scot was a model son from then on, but he wasn't.
When Joann visited me, he was doing better. But it still took many more years before he finally became a Christian, and of course becoming a believer didn't end the complications and repercussions he and his parents suffered from his years of irresponsibility. However, Joann's insights on the Ephesians passage and other scriptures kept her strong through the years, able to continue combatting her real enemy, which was not her son but the destroyer of souls. (And meantime, her husband did get a job. He spent the rest of his working life as a chaplain for prisoners and their families at the state prison.)
Joann's visit came at just the right time for me.
I was going through a painful midlife crisis, dissatisfied with my marriage and feeling like I kept getting thwarted by the same dilemmas over and over. I began praying through Ephesians 6:12ff, gaining insight into the meaning and use of spiritual weapons. My life began to turn around. It took a while, but new insights began giving my husband and me new ways of thinking and relating. We healed, individually and as a married couple. Helpful strategies replaced destructive patterns; difficult family situations and relationships became manageable; and I finally became free to do the research and writing my soul required. I learned so much in that healing process that I often thought I could write a book about it. Maybe I am starting to do that now.
Here is one of many things I learned:
Whenever I was in a conflict, or suspected one brewing, I needed to start my days praying through Ephesians 6:10-20:
Dear Heavenly Father,
Thank You for giving me a full set of armor for today's spiritual battles so I can take my stand against the devil's schemes.
I acknowledge that my struggle today is not really against __________. It's against powers of darkness and spiritual forces of evil that are trying to destroy him/her/them/us. Help me, I pray, to put on the full armor You've given me and stand my ground, and just keep standing.
I want to put on the belt of truth. I want to give up wishful thinking and give up my personal version of reality. I ask you to show me the truth here and help me see what's really going on.
Please help me to take off my own self-righteousness, my "rightness" ("He must admit that I am right and he is wrong") and be satisfied to be covered instead with the righteousness of Jesus Christ. I do, however, want as much as possible to do whatever is right. So…what is my responsibility here? Help me to recognize it and do it.
I also want to walk in the readiness that comes from the gospel of peace. I forgive* ________ for ________ Please help me to walk today with a readiness to forgive and reconcile.
You are my shield, O Lord. I trust in You. Your sacrifice covers me so completely that whatever accusations come against me, I am not condemned. If You, God Almighty, if You are for me, it doesn't matter who is against me. It doesn't matter who tries to condemn or shame me. Nothing can separate me from Your love.
I want to put on the helmet of salvation as well, to worship You and let You renew my mind so I can think with the mind of Christ.
Now I ask, "What is Your Word for this situation? Show me and help me to wield it properly as a sword in the conflict."
And finally, thank You that Jesus is praying for me and for everyone involved in any battle. Please help me to depend on You all day long, looking to You and asking You for what I need like a hungry child running to her parent to ask for something to eat.
I ask this in the name of Jesus,
Amen
*forgiving can take more time than this; I might have to pray and say that I am not yet able, but I am willing to become able to forgive; forgiveness for deep hurts requires a grieving process and that can take time
© Becky Cerling Powers 2021
Reprint with attribution only
Becky Cerling Powers is the author of Laura's Children: the hidden story of a Chinese orphanage and Sticky Fingers, Sticky Minds: quick reads for helping kids thrive. She blogs at www.beckypowers.com "Family Conflict, Family Struggles" is the first story in a collection of stories explaining and describing the use of the spiritual weapons that the apostle Paul listed in Ephesians 6:10-20. To find the other stories, enter "reflections on spiritual warfare" in the Search Bar