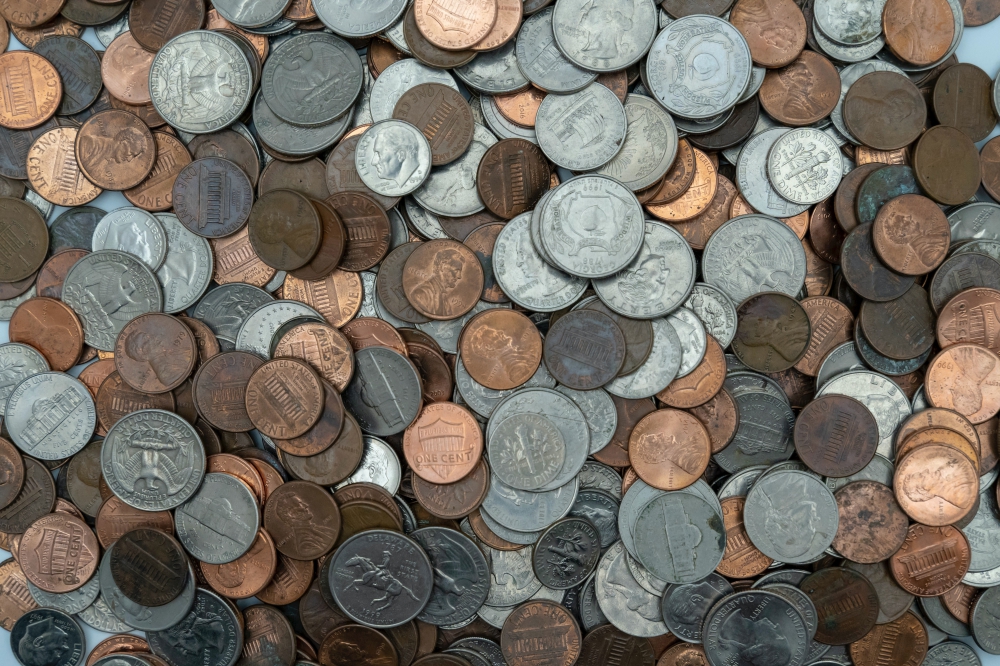 This week I took a Coin Toss Journey with our 12-year-old granddaughter. We went out the front gate, flipped a quarter (it was heads) and headed left. Then whenever we came to a turning point, we flipped the quarter to get our direction: heads, left; tails, right. We spent a fun hour walking along a highway, meandering into a local business, trudging along a railroad track, then slip- sliding down into an arroyo and muddying our shoes while ducking through a viaduct under the highway. Eventually we wound up threading our way between cactus plants and mesquite bushes through a strip of desert between the railway and the river, and we ended up along the east bank of the Rio Grande.
Money.
Kids are so fascinated with money, families don't even have to spend it to enjoy it. Kids just like money itself. Pocket change can be just as interesting to the younger ones as $20 bills—sometimes even more interesting.
And parents, fortunately, can take advantage of that fascination to help children learn basic math, motivate them to do chores, or just spend time together having fun—cheaply.
Real money math teaches basic arithmetic
When I first started home schooling our son Matt for first grade, I went to the bank and got about $8 worth of change, plus a couple dollar bills. I kept this hoard in a special place to use as a math manipulative. Before I knew it, the two older children (both still in regular, classroom school) volunteered to join our math lessons! So, I worked with them, too, at a more advanced level in real money math.
At first Matt and I simply counted small amounts of money and did simple addition and subtraction with pennies. Then Matt learned to sort the money into piles of nickels, dimes and quarters. After that he learned to count in multiples of 5, 10, and 25.
Real money can be used to teach kids how to make change.
The older children first learned how to count a pile of money, and then they learned to make change. I learned, along with them, not to do the subtraction problem mentally. The secret to making change is to count from the price of the item up to the amount the person paid you.
On a very simple level, then, if an item cost 7 cents and someone paid for it with dime, you state the price (7 cents) and start counting pennies into his hand (8 cents, 9 cents, 10 cents). For more complicated problems, you use pennies to count to a multiple of five, then nickels and dimes to count to a multiple of 25, and quarters to bring the amount of change to a dollar.
Here's an example: Someone gives you a $5 bill to pay for an item costing $2.31. You state the price ($2.31), then count pennies into their hand (32,33, 34, 35), then add a nickel ($2.40), then add a dime ($2.50), then count quarters ($2.75, $3), and then use dollar bills to count the rest of the way ($4, $5).
Panning for gold is fun for a party activity or a simple day brightener.
Bury pennies in the sandbox and give your children sieves to find the buried treasure.
You can make the pennies look like new by dropping them into a solution of 4 tablespoons vinegar mixed with 1 teaspoon salt in a soup bowl. For best results, heat the solution 30 seconds in the microwave before you drop in the penny. If a penny doesn't immediately become clean, stir it around with a wooden spoon. Then drop a little vegetable oil onto the penny and polish it with a soft cloth to make it shiny.
You can also use bright pennies as rewards for good attitudes or completed chores.
Playing Quartermania can help kids cut down on screen time to pursue more creative activities.
The object of the game is to move all the quarters ($15 or $20 worth) from Jar A to Jar B. The children decide beforehand what the family will buy with the money when it's all in Jar B. Children earn a quarter for reading for half an hour, for example, and they also are rewarded for cutting down on screen time (they get 2 quarters for one hour of screen time, 3 quarters for only half an hour, and 4 quarters for no screen time all day). Parents can also take a quarter out of Jar B and place it in Jar A for bad attitudes and other offenses. (But remember: penalty behaviors should be discussed beforehand).
Playing Coin Toss can serve as an Anywhere-Anytime Game
Show your child how to flip a quarter with his or her thumb. Once children can do this, they can start seeing how high they can toss it into the air before they catch it. (Two rules to this game are that the coin must spin in the air and that a person must catch it in his hand before it hits anything).
For fun together, you can make this a competitive game for two. Or you can flip quarters back and forth for a game of catch. Or you can take turns spinning the quarter and count seconds to see how long the spinner-player can keep it rotating.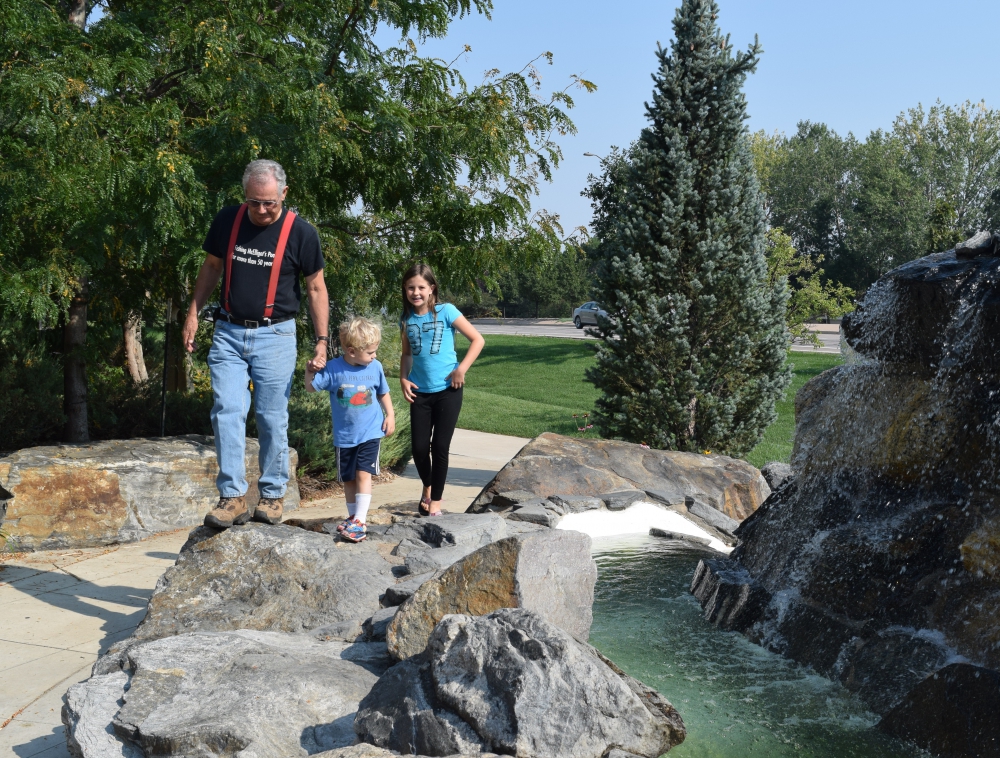 Taking a Coin Toss Journey adds suspense to a simple walk.
Let a quarter be your guide around the neighborhood when the weather is nice, and you have an hour or two to spend. As you step out the front door, let one of your children flip a quarter. If it's heads, turn left. If it's tails, turn right. Keep going from there, taking turns flipping the coin to decide which way to go.
Starting a basic coin collection is interesting and easy
Show your child the four main kinds of U.S. coins in use today (pennies, nickels, dimes and quarters). Then go through all the change in the house to try to find one coin in each category dated during the last 10 years. Tape each coin to a piece of cardboard and label it. After that, keep track of the change that passes through the household and try to fill in the missing dates and categories.
If children enjoy that activity, they may also want to start collecting the different quarter designs that the U.S. Mint began producing in 1999 with their 50 State Quarters Program. That campaign produced new designs for quarters over a 10-year period, with each quarter honoring one of the nation's states. The Mint produced each design for about 10 weeks and will never produce that design again. All the quarters display an image of George Washington on the "heads" side and the individual state design on the "tails" side. The U.S. Mint then produced a new design for the District of Columbia and each of the U.S. territories. These ventures were popular, so the U.S. Mint then began their America the Beautiful Quarters Program in which they began issuing new quarter designs picturing national sites and parks.
Finally, don't forget that foreign coins & bills fascinate kids, teens included.
When grandparents, aunts, uncles and other friends travel to other countries, ask them to collect samples of coins and bills from those foreign places to give to your children.
A Word of Warning:
Keep coins away from small children. They may put them in their mouths and choke on them.
Resource: For American coin information, history and coin collection encouragement, go to the U.S. Mint Coin Collection's kids' page
© 2021 Becky Cerling Powers
Reprint with attribution only (www.beckypowers.com)
You can find more parenting insights from Becky Cerling Powers on this website (www.beckypowers.com) and in her book Sticky Fingers, Sticky Minds: quick reads for helping kids thrive