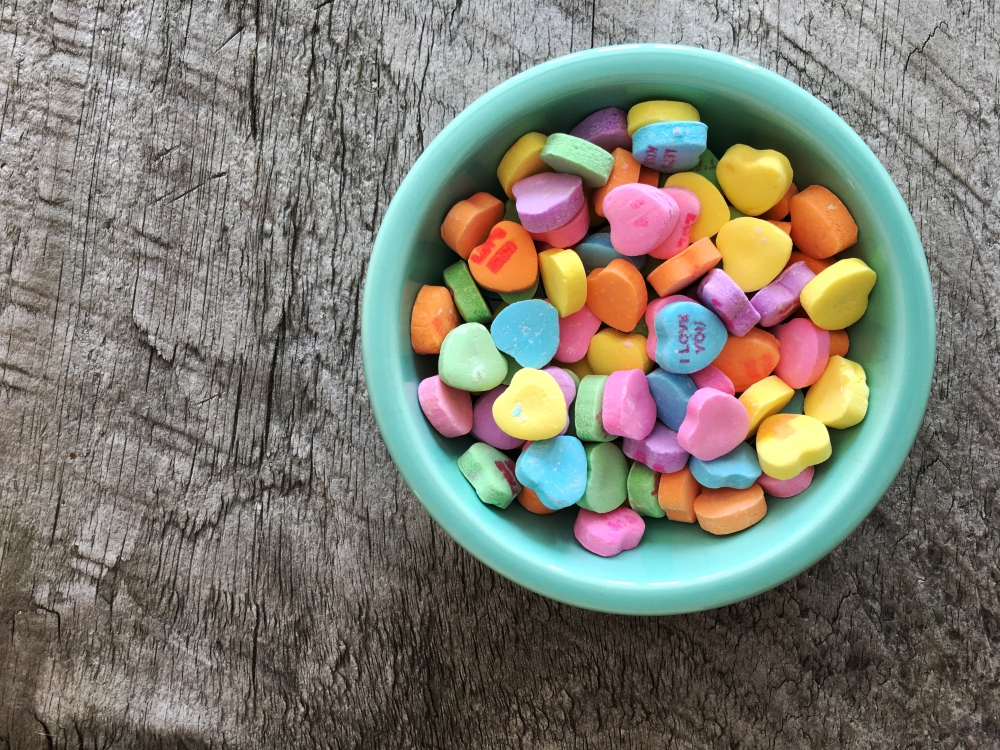 What does "no" mean?
It depends on who says it.
I was drinking tea and chatting at a friend's kitchen table when her 7-year-old wandered in and started taking a piece of candy from the candy bowl. "No, Susie," my friend said. "No candy. It's too close to supper time." And we both went back to talking.
After a couple minutes, the child edged back to the candy bowl and started to take a piece.
"No, candy," Mom said. "Go watch your TV program."
Susie wandered off for a few minutes and then came back. Her mother watched her take a piece of candy from the bowl. She rolled her eyes, shrugged, and kept on talking to me as her daughter walked off with a mouthful of candy.
This little girl's mom didn't realize it, but she was teaching her daughter that "no" means "yes, if you just keep trying." And she had just helped strengthen her daughter's will to "just keep trying" next time.
It doesn't seem important.
Who wants to interrupt a guest to move the candy bowl high out of reach? Or battle a child over a silly piece of candy in front of another adult?
It is important, though, because the issue this mom and daughter are dealing with isn't really "No candy at dinner time." It is, "What does Mom's 'no' mean?"
A child figures out what "no" means by testing.
Do the no-sayer's actions match their words? If "no candy" actually means "yes, if you keep on trying," then what does it mean when Mom says, "Never cross this busy street by yourself"?
Children need to lose the contests on the minor, "unimportant" issues like "No candy means no candy even when I have a guest" so that they will be less apt to try dangerous contests like crossing a busy street by themselves after they've been told no.
When our children were small, I was tempted to sit and yell at them "Don't- don't-don't!"
But all that did was to make me frustrated (and hoarse). I learned that when children are testing your words, the only effective response is to get up (now!) and match your words with action.
I vividly remember giving myself pep talks when our children were small: "Come on, Becky. Get up off your rear end and deal with this." It was hard. But it got better over time as we convinced our children that we meant what we said.
A phrase that helped me came from Jesus:
"Simply let your 'Yes' be 'Yes' and your 'No' be 'No.'" (Matt. 5:37a) He was explaining that you shouldn't have to swear oaths to emphasize "Now I really mean what I am saying." Your character should be such that people know they can count on whatever you say. Your life will match your words.
I needed to work on making my yes mean yes and my no mean no for the sake of my own integrity in all of life. And my children needed my yes to mean yes and my no to mean no for the sake of their safety, so they didn't move their testing into dangerous territory.
They also needed it for their security.
It's a scary world when you can't trust what your parents say. The most insecure children are those whose parents' yes or no means something different every day, depending on the parent's mood (cheerful or depressed) or the parent's condition (sober or soused).
Making your yes mean yes can be just as challenging as making your no mean no.
One day my daughter, who was about 14 at the time, asked me to drive her someplace. I didn't want to do it but had no good reason to refuse. "Oh all right," I said in an exasperated voice. "Let's go!"
"But Mom," Jessica said, "I feel so guilty!"
Her words made me see what I was doing. I was saying yes and then punishing her emotionally for my yes.
That was dishonest. That yes did not mean yes.
That kind of yes undermined my relationship with my daughter. It made her reluctant to approach me and ask for what she wanted or needed.
So I apologized.
Another time our teenage daughter told me a story about an incident she observed at a church picnic where some men were playing softball. A 6-year-old came up with a friend, dragging his bat and asking, "Dad, can we play?"
"Sure," his dad said. But he winked at the other men.
The dads continued to play at an adult level until the two little boys' eagerness vanished and they drooped off the field, discouraged. The men finished their game in good spirits.
This dad held a position of authority in the church, and I doubt that he realized that the trick he played on his son with a dishonest "yes" cost him his credibility with one of the church youth.
If "Yes, you can play" really meant" "No, we don't want to be bothered with you," then what about the other words he said from the pulpit? Did those words mean what they appeared to mean? Or did they mean something quite different? How could you tell?
The simplest solution was to ignore him.
If parents want their children to pay attention to them, they must let their yes mean yes and their no mean no. It's that complicated, and it's that simple.
© Becky Cerling Powers 1997
Originally published in the El Paso Times March 2, 1997