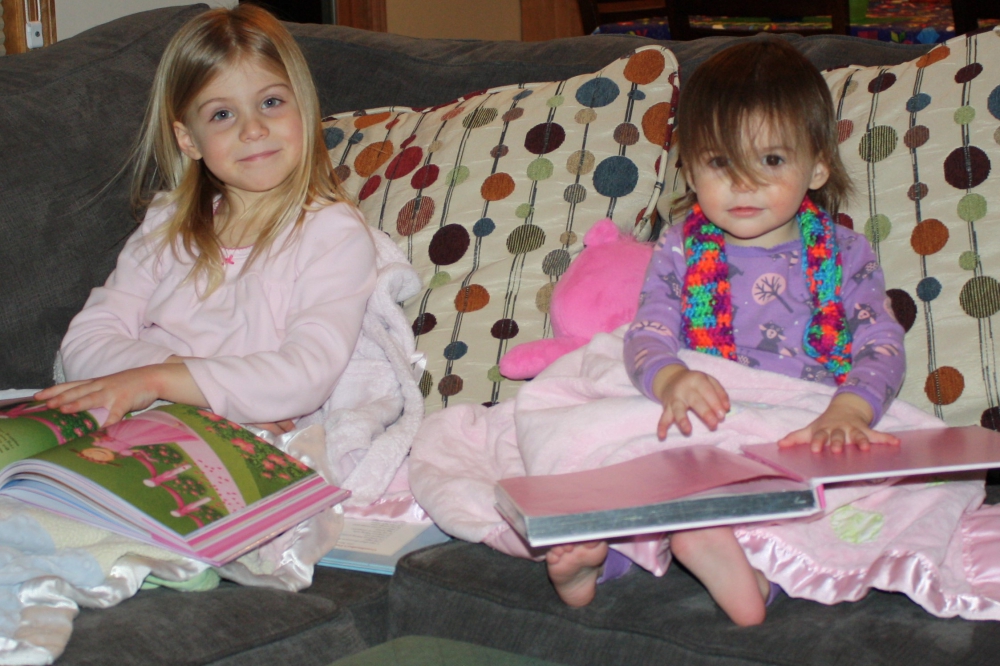 My homeschooling friend Jane had a little boy named Kenny who was uninterested in reading. When he turned seven, she grew frustrated and started pushing it every day. "He started to stutter," she said, "but I didn't get the message."
Meantime, I didn't realize what was going on in Jane's home. I just remembered that she had told me once that Kenny wasn't interested in reading. So one day when I was in the neighborhood, I dropped off some material about late-blooming readers.
Jane said she felt like my visit was like a direct rebuke from God saying: QUIT PUSHING.
So she quit the daily reading lessons and let her son play with his Legoes, which was what he liked to do. "He started making the most amazing, creative, intricate inventions," she said. "He quit stuttering, his self esteem went up dramatically, and he just blossomed." A year later, she tried reading lessons again, and this time they "took." Kenny learned to read easily.
Many intelligent children, like Kenny, are not ready to read at age 6.
Some of these late bloomers are not merely intelligent, they are geniuses — like Thomas Edison. Why is this so? If a child is smart, why can't he read?
It's plain biology. Each child has his or her own timetable for physical development. The pituitary gland controls the developmental calendar, says child psychologist James Dobson in his tape, "The Late Blooming Child," and no amount of parental anxiety or social pressure can speed up that timetable.
One aspect of growth that the pituitary controls is myelination.
This is a process that insulates a child's nerve pathways with a white, fatty substance that makes electrical impulses move quickly and efficiently to other parts of the body. First each nerve pathway (or axon) must grow to a certain diameter. Then a myelin sheath begins to form gradually around that axon, like the layers of an onion.
Until myelin begins insulating the axons of a particular body system, electrical impulses cannot pass consistently through the nerves in that system.
It is then impossible for the child to control that part of his body.
His control develops gradually as myelination develops gradually. The last body system to become fully myelinated (sometimes not until age 8 to 10) is that part of vision that allows reading to occur.
Raymond Moore, former director of the Hewitt Research Foundation, compiled research from neurophysiologists, ophthalmologists, psychologists and research psychiatrists during the 1980's. He said their results consistently show that children learn to read more easily after their vision, touch, hearing, and muscle coordination become more developed, and after they develop the ability to reason abstractly.
When pushed, children can learn to read before they are fully ready, if the axons are partially myelinated.
Children can do it, but it frustrates them because they are working without the necessary tools. Think of trying to flip pancakes with a piece of aluminum foil instead of a spatula, Moore said. You can do it. But you can't do it well. If that were the way you had to make pancakes, it would be so frustrating, you might decide to quit making pancakes.
When children are pushed into reading before they are ready, he warned, they become frustrated and discouraged. Then, by age 8 or 10 when they have the neurological ability to pick up the skill easily and run with it, they are burned out and have lost their motivation for schoolwork.
The solution for late bloomers, Moore said, is to let them wait.
Instead of pressuring them to read, respond warmly to them one-to-one. Provide an environment that encourages them to explore, create and think. Encourage them to love learning and enjoy books that you read to them. Work on developing their language and thinking skills.
My husband and I stumbled across Moore's research reports in 1984, soon after we started home schooling our late blooming first grader. Moore's studies gave us encouragement to back off and allow our late bloomer to follow his own reading readiness timetable at home. Instead of pushing him to read, we read good books to him. We explored the desert, visited museums, drew maps, created crystal gardens, experimented with art media, and made crafts.
And we talked, talked, talked about all the things we did.
Our son developed a wide vocabulary and a strong sense of good grammar and proper English by listening to good literature and engaging in stimulating conversations. This also taught him to think. When reading finally clicked for him at age 10, he caught up fast.
Our three children all began reading when they were ready to read. Our early bloomers learned to read at the ages of 5 and 6, and our late bloomer learned at age 10. Yet by age 13, all three were reading at a college level.
As a nation we are causing unnecessary damage, stress, and wasted effort by being impatient with children's normal development and pressuring teachers to make all their students learn to read by age 6.
As homeschoolers, we are free to refuse to bow to this social pressure
We can devote our efforts instead to providing the kind of stimulating, literature-rich environment that encourages children to love learning and read when they are ready.
A language-rich environment puts in place the tools children need for using what they read when they become able to read. This environment is good for all children. In our home, we found out that the kind of place where late bloomers can thrive is the sort of place where early bloomers thrive, too.
©2021 Updated from the March 31, 1996 originally published in the El Paso Times
Reprint with attribution only (www.beckypowers.com)
You can find more parenting insights from Becky Cerling Powers on her website (www.beckypowers.com) and in her book Sticky Fingers, Sticky Minds: quick reads for helping kids thrive in the Bookstore or on amazon.com