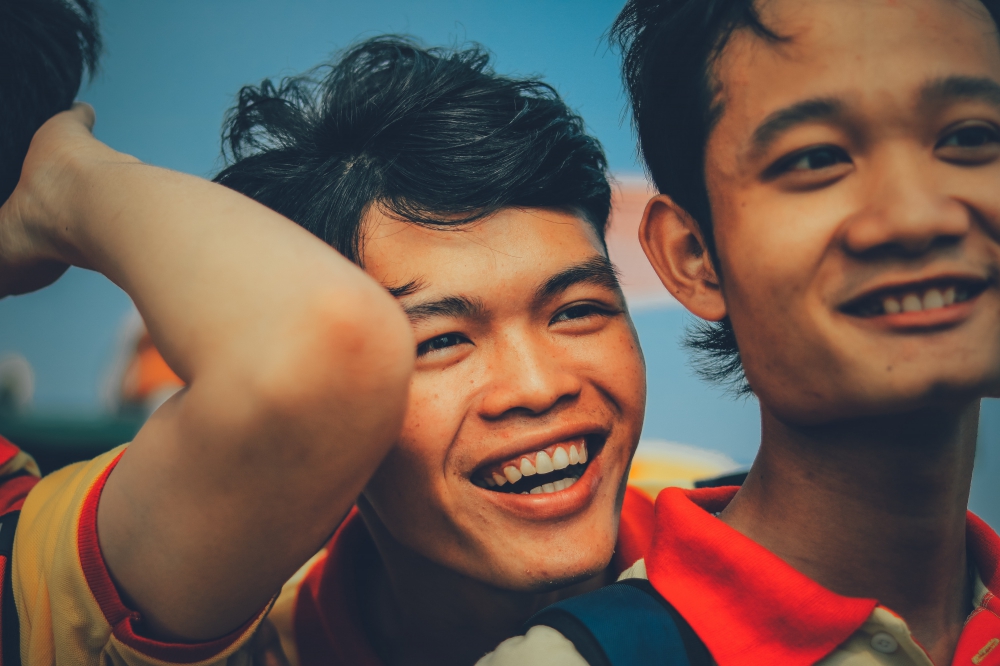 I used to sit in my junior high English class and think, When I grow up, I never want to teach junior high students. People this age are horrible. And later, when I had children of my own, I dreaded the day when they would turn into adolescents.
But when the day arrived, I was pleasantly surprised. I enjoyed that time – at least, most of it. There were rough spots, of course. But looking back over it all, our three children's adolescent years were easier than their preschool years, when we were laying the foundation for what was to come.
How toddlers can prepare you to raise teenagers
One of the secrets to surviving, appreciating and even enjoying a child's adolescent years is this: you have to grow up yourself first, to prepare. Our children used to embarrass me into growing up. I'd see our two-year-old pitch a temper tantrum and realize that I had pitched a fit just like that (not as dramatic, not as loud, not as public, but still, just like that) only the day before.
By definition, small children are childish – that is, they are impatient, self-centered and unrealistic. (Just spend half a day with any toddler for an on-site demonstration.) And in varying degrees, most of us parents start out our parenting with these same characteristics of immaturity.
What immaturity looks like
We get irritated because we don't want to wait for things, or for other people. Or we get angry because we want to stay comfortable, and we're being called on to tend a need instead. Or we explode when our children don't meet our unrealistic expectations that they "should" be doing things that are actually beyond their stage of development, or they "should" behave radically differently from other children their same age.
Our own impatience, selfishness and foolishness tell us that we must work some more on growing up ourselves before we can guide a child through the maturing process. But how do we change?
We get impatient trying to learn patience. We're too wrapped up in ourselves to remember that we're supposed to be learning to think about others. And we'd rather be mad about our disappointed expectations than face reality. Meanwhile our failures keep hurting our children.
It is at this point that parents either give up through despair or denial (more unreality) or else they use failure as a door to understanding and action.
What we all need most in order to truly mature
What failure can teach us, if we let it, is that our greatest need when we fail is for someone to love us anyway with no strings attached – despite our failure and despite our immaturity. We need unconditional love because we've just proved we can't meet the conditions for earned love. Yet, along with forgiveness for our failures, we also need the balance of a challenge to do better next time.
We need people who love us this way and who let us practice loving them that way, too – forgiving us and giving us practice forgiving them. (Getting chances to practice forgiving is never difficult as long as you're around other people.)
We need people who show us a better way to handle things – models and mentors. We need spiritual counselors, too, who can show us how to get the power to change. In short, we need to develop a good support system of other adults from family, church and community who will encourage us both to mature and to love unconditionally so we can be better parents. (Of course there are no perfect support systems. Most will also provide us with some bad examples, too – to show us what to avoid.)
What unconditional love is and is not
Learning to love our children unconditionally doesn't mean we like everything they do and let them do it. We can love them while hating their behavior in the same way we can love a friend while hating the cancer that is destroying her life. That means that even when we are making our child lose privileges for bad behavior, for example, we can still show affection, still giving loving eye contact, still say, "I love you no matter what."
Loving in a self-centered way means we show love only when our child does something to make us proud or happy. Conditional love seems easier than loving unconditionally – until it dead ends.
For children are love mirrors.
In his book How to Really Love Your Teenager, child psychologist Ross Campbell says that children can only reflect back the love their parents give them. If parents love unconditionally, children love back that way. And if parents show love only on condition, when they judge that their children have done something to deserve it, then children learn to love the same way. By adolescence, parents and children are stalemated because each party is withdrawing love and waiting for the other one to make the first move by doing something special to earn their love.
The special reward for unconditional love
Unconditional love, though, has a special reward for parents of teens (and this is true even though no parent loves unconditionally 100 per cent of the time). Adolescents have a strong drive to independence, and that drive requires lots of emotional fuel, Campbell says. The fuel teens prefer is unconditional love.
So when parents convince their children that they are a reasonably reliable source of unconditional love during the preteen years, their children will keep coming back to their parents to fill their emotional tanks when they are teens.
And during adolescence, that can make all the difference.
©2020 Becky Cerling Powers – reprint with attribution only
Excerpted from Sticky Fingers, Sticky Minds: quick reads for helping kids thrive
https://www.amazon.com/s?k=Becky+Cerling+Powers&ref=nb_sb_noss
More parenting insights articles like this one at www.beckypowers.com